We Embrace All Who Enjoy All Things Italian and Desire To Expand Their Knowledge of a Beautiful Country, Its People and Its Language
The Dante Alighieri Society of Washington promotes Italian language and culture. Our English and Italian programs are open to the public. We host an annual Christmas party and Wine Dinner featuring wines from throughout Italy. The Society sponsors an Italian Language program with beginner to expert classes.
Who We Are
The Dante Alighieri Society (DAS) of Washington is a 501(c)(3) nonprofit corporation licensed by the State of Washington and operating in the City of Seattle. Additionally we are certified as an official chapter of the Società Dante Alighieri, an international organization headquartered in Rome, Italy.
Membership is open to anyone interested in the goals and ideals of our society regardless of ethnic origin. Many of us are native Italians or of Italian ancestry, but many of us are not. So if you love things Italian or just want to learn more about Italy, its people and its language, you are welcome.
Our mission, along with international organization, is to promotes Italian culture and language within the state of Washington and around the world. Language, art, food, wine, friendship, fashion, elegant design and history are a large part of this culture. We gather together regularly (see schedule) to share food and enjoy presentations on the many aspects of the Italian culture. Join Us! There is much to enjoy and learn!
The major elements of our offerings are
How we are organized
The Dante Alighieri Society of Washington is a membership organization with an elected board and elected consiglieri to advise the board. Board members are elected each year at the Society's Annual General meeting, usually held the second Wednesday in April. Members are invited to submit nominees for any office to info@danteseattle.org.
The Board and Consiglieri for 2019 – 2020 are:
Officers

Dan DeMatteis – President
Joyce Ramee – Vice President
Janet Lenart – Secretary
Harry Reinert – Treasurer
Consiglieri

Houghton Lee – Counselor
Bruce Leone – Counselor
Dominic Minotti – Counselor
John Steedman – Counselor

Ex-Officio

Sylvia Shiroyama – Past President
Giuseppe Tassone – Language Program Director
Board meetings are usually held on the first Wednesday of August, November, January, March and May. Future meetings are tentatively scheduled for February 5, 2020, March 4, 2020 and May 6, 2020.
Meetings are held from 7:00 – 8:30pm at Merrill Gardens at First Hill, 1421 Minor Avenue on Capitol Hill. Meetings are open to all members.
Get Involved!
We'll welcome you, and we'll get to know each other.  As an all volunteer organization (except Language School staff), Dante activities are made possible only by the time, energy, passion and love of our volunteers. Our events and gatherings create unmatched opportunities to learn more about Italy, its language and culture, and to meet other people, of Italian heritage or not, who share our common fascination with Italy. It takes a lot of volunteers to make all the Dante events happen. Member or not, you are encouraged to become actively engaged in Dante's programs – it's a great way to better know a great group!
Volunteer opportunities:
Meetings:

Help set up
Help clean up
Bring wine, snacks, or dessert to share
Cook the pasta dinner (you'll have lots of help)

Write an article for La Voce newsletter
Festa Italia Chair: Coordinate our booth at Festa
Work a shift in the Dante booth at Festa Italiana
Help with Festa di Natale per i Bambini
Pre-Dante Pasta Coordinator: organize the cooking schedule
Program Chair: Coordinate the roster of speakers
Make a presentation at a meeting
Chair or serve on the Board nominating committee
Serve on the Board
Serve as Volunteer Coordinator
To volunteer for any position or activity or if you have questions before committing, send an email to: info@danteseattle.org or call: (206) 289-0419.
The Worldwide Dante Alighieri Society
The Società Dante Alighieri was formed in Italy in July 1889. The society was named after Dante Alighieri (1265-1321), a pre-Renaissance poet from Florence and the author of The Divine Comedy. Dante is considered the father of the Italian language.
The Dante Alighieri Society of Washington is one of the few locations in the United States, and the only one on the West Coast, authorized to conduct the Italian Language proficiency examination required by the Italian government to work or study in Italy. Learn more here.
Membership card – be sure to ask for your membership card if you are planning to travel to Italy. The membership card entitles you to a variety of discounts while traveling in Italy.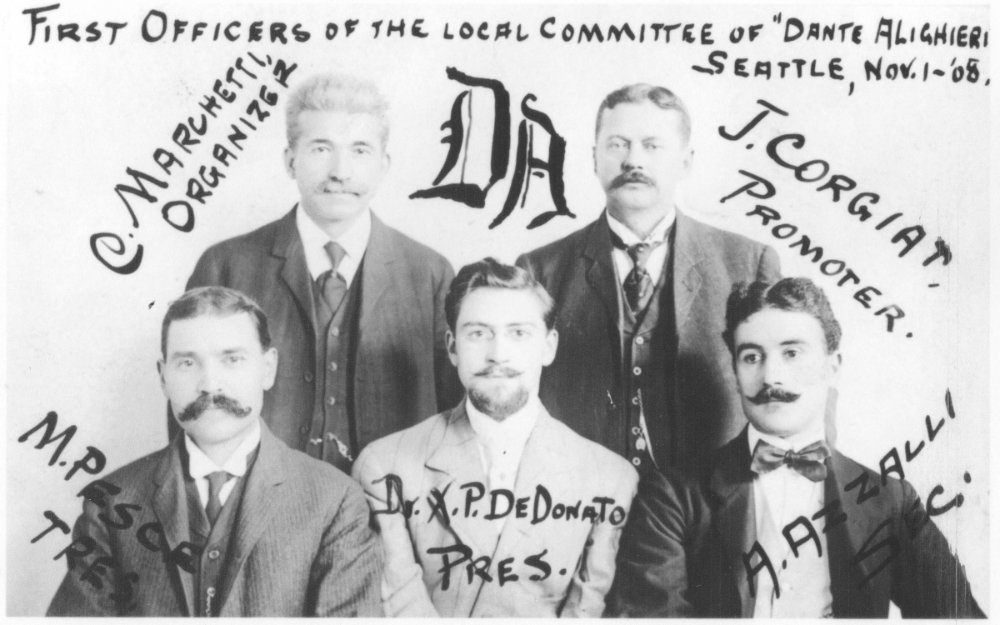 The Dante Alighieri Society of Washington was established in 1908 and reorganized in the early 1970s to promote Italian language and culture in the state of Washington.
The society has operated an Italian Language Program in Seattle since 1984.